In November 2019, on the way to my son's house for a weekend visit, I felt a discomfort under my right arm. The discomfort remained throughout the weekend. When we returned home, I found that there was a knot under my arm. I contacted my primary care physician for an appointment. He thought it was probably nothing to worry about, perhaps a cyst or infection of some sort. So he put me on antibiotics but scheduled an appointment for a mammogram, just to be certain. I had the mammogram in December 2019. Sure enough, there was something there, but they couldn't tell what it was. They did an ultrasound and put me on another round of antibiotics, thinking there was an infection in my lymph nodes. They scheduled a biopsy to rule anything out. During the biopsy, the doctor had a difficult time getting any tissue and thought that to be odd. When my husband and I came to get the results, we were directed to the "Quiet Room". I never want to go there again! The doctor told us what they found- Metastatic Melonoma. He said he wished it had been breast cancer, at least there would have been more hope for me. I felt insulted for all of those who are currently battling breast cancer and the struggle they are going thru. I was angry that he told me there was no hope. My husband immediately corrected him, "My God is bigger than cancer!"
This is where my journey started. My primary care physician referred me to Tennessee Cancer Specialists. They had recently opened an office in our area. I had heard of them because they advertised on the Christian Radio Station where I worked. (I'll call that a God wink).
I met Dr. Tumkur. He was very knowledgeable and seemed to be very caring. We hit it off on the first visit. He said he felt that surgery would be the first move. I asked if I could pick my own surgeon. He said of course, but he would like to send me to a local surgeon that had trained at MD Anderson. We agreed that I would see his surgeon. I was told that it could be a few weeks before I could get an appointment. I honestly didn't have time to waste. That weekend at church, a lady came up to me and asked me if I had tried to get an appointment with this particular surgeon. I honestly didn't know how she could know that. But she explained that she worked in this surgeon's office and would get me an appointment immediately. I was scheduled that same week! (Another God wink).
The Office Staff at Tennessee Cancer Specialists juggled my schedule and worked hard to get me the appointments for scans and visits that I had no idea that I even needed. I had surgery in February 2020, removing several lymph nodes and the tumor. The tumor was sent for genetic testing. A port was surgically placed a couple weeks after that. I started on a treatment plan of Immunotherapy, which is the new 'go-to' for melanoma. I had my first treatment in March 2020, in the midst of the COVID-19 pandemic. Up until that time, my husband held my hand and came to every appointment with me. But now, I had no choice but to go by myself. I was so scared when I walked into that Chemo-room for my first treatment. The nurse, Robin, asked me questions, and I just sat there in my mask with tears streaming down my cheeks. She grabbed my hand, knelt down beside me and looked me in the eyes and said, "You are not alone. We are going to go through this with you." I can't tell you how much comfort that brought to my heart. Even though I cried nearly every time I had to get treatment, she didn't leave me. She was always there to greet me with a smile, as was the rest of the staff.
At the end of April 2020, I began to have some pain in my left collarbone area. It progressively got worse. After scans in May, they found that the immunotherapy was not working for me. The cancer had metastasized to my collarbone (causing it to fracture), my lungs, and my liver. I also had a rash appear on my right breast. We thought the rash to be shingles at first, but found that it was in fact melanoma. It was spreading fast and aggressively. As hard as it was for Dr. Tumkur to share this news with me, he told me not to lose hope. "We will fight this," he said.
Dr. Tumkur formed a new plan of action. As I mentioned earlier, the tumor had been sent for genetic testing after surgery. It was found that it was positive for the BRAF mutation which made it possible for me to take a newer medication. I started 'targeted therapy' of Mekinist and Taflinar- 5 pills a day. I also started radiation treatment for the collarbone and breast. Between the medication and radiation, I'm not going to lie, it was a rough road. The medication made me so sick- nausea, vomiting, body aches, fever, rigors. I couldn't eat anything except ice chips. I lost around 30 lbs. The pain from the fractured collarbone was unbearable. I couldn't do anything. I had family staying with me around the clock and taking me to doctor appointments. By the end of June, I honestly thought I was done. I thought, "Lord, this is it, and that's ok."
But by the time the end of July rolled around, radiation was over and I had become used to the medicine. Most of the side effects were subsiding. I slowly started to eat again. August 2020, I went back to work part-time. I began to slowly regain strength. Fast forward, January 2021, I started back full-time at work.
From my very first visit to Tennessee Cancer Specialists until now, I'm always greeted with kindness and a smile. I've received encouraging phone calls and cards. I feel like I'm a priority for them, whether I'm there for labs, a visit with the Doctor or treatment in the Chemo-room. They always make me feel welcomed and cared for. I know that God has brought me this far, and He alone can heal me. He doesn't need to, but sometimes He chooses to use medicine and people as a conduit for His healing. I truly believe that God placed me with the Team at Tennessee Cancer Specialists, and I'm grateful for that.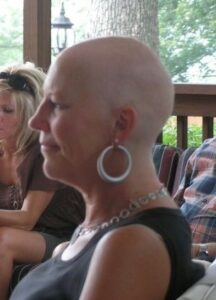 May of 2007, 18 family members and I were celebrating mothers day.  My nephew, who was 14 years old at the time, was also 5 years out from having lung cancer.  I gathered him up in my arms and told my family that if he could beat lung cancer, then I could beat breast cancer.  Needless to say, everyone was shocked.  However, everyone gathered around my husband, my two girls and myself and prayed and cried over us.  It is one of the most precious memories I have.
In the first two years after my diagnosis, I lost two breasts and  gained two breasts; I lost hair and then it grew back, some of it coming back in places I really didn't want, and  I am still having enough hot flashes to make Old Faithful look like an iceberg!  On June 6 of this year, I will have been cancer free for ten years. I look at cancer as a gift.  It taught me not to sweat the small stuff and to see each day as new and exciting.  I have learned the difference between joy and happiness.  Happiness is dependent upon circumstances.  Joy is knowing that no matter what happens, I can always trust God to be right by my side, giving me the grace for every circumstance that comes my way.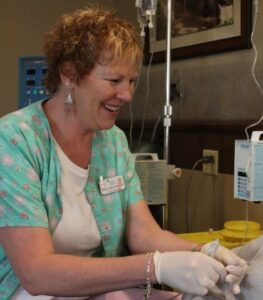 Cancer is also a gift, because, as an oncology nurse, I know what my patients are going through – the endless fatigue, nausea, bone pain. In the past ten years, I have treated, loved, laughed and cried with other cancer survivors. My patients become like family. We have celebrated survivorship. We have mourned when we knew that cancer was going to take their life. In the past ten years I have wept for my patients who have died too early and I have asked God "Why did you choose for me to survive?"  And He told me, "Jennie, number one, I'm not finished with you yet, and number two, Psalm 116:15 says 'Precious in the sight of the Lord is the death of His saints.'"  You see, my Heavenly Daddy longs to see and to hug His children.  He created us, and He misses us.
Surviving cancer starts as soon as we are diagnosed and continues for as long as we live.  At first, whenever we get a new ache or pain, get dizzy, get a new freckle or even if a finger looks different from the other, our first thoughts are "Is it back?", or "Has it spread?"  Sometimes our doctors think the same thing, and we get scanned, probed, stuck and loose our modesty all over again.  For some of us, everything is cool and we are still cancer free.  But for others, the cancer is back and the battle starts all over again.    But Romans 8:8 says "We are MORE than conquerors through Him, Jesus, who loves us."  While we may not win the battle with cancer, with Jesus we win eternal life.  You see, this life is like a vapor.  For me, I have NO greater joy than to know I will be spending eternity with Jesus, the One who gave His life for me.